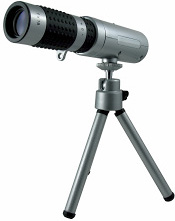 By Andrew Liszewski
From Japan-based Digital Cowboy comes this pretty run-of-the-mill 1.3 megapixel webcam that really only stands out thanks to an attachable telephoto lens which gives it an impressive 7x zoom capability.
I'll admit that webcams have come a long way but I've yet to been blown away by the quality of the consumer-level offerings currently on the market, they're still pretty grainy and blurry from what I've seen. Of course working from home I'm also morally opposed to the idea of the people I'm chatting with actually seeing me via webcam given everyday of the week is casual Friday. ('Casual' being an understatement.)
The DC-NCP130 is expected to go on sale in Japan next month for about $80 and will include both the telephoto lens as well as the detachable tripod.
[ Digital Cowboy 7x Zoom Webcam ] VIA [ Crave ]