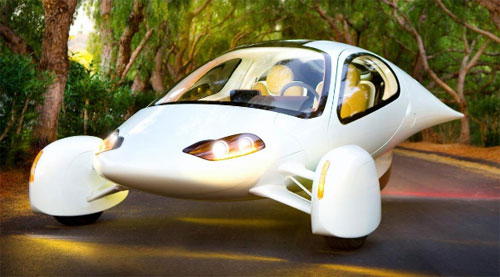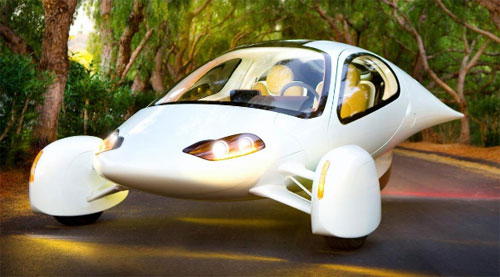 By Evan Ackerman
If you're in the market for an environmentally friendly car that looks like an anemic space fighter, the Aptera may be for you. Unlike most electric/hybrid cars with this sort of look, the Aptera is actually going to be produced, and if you reserve yours now for a fully refundable $500, you can expect to receive it in (only) about a year. It seats 2.5 with plenty of room for luggage, and can supposedly hit 60 mph in about 10 seconds with an electronically limited top speed of 95 mph. More pics, and specs on the superefficienttotallybadass engine options, after the jump.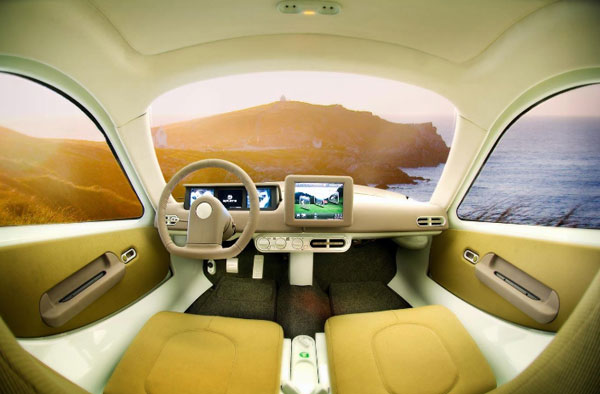 The design of the Aptera includes everything you might expect to find in a "normal" car, including airbags, a rear view camera, GPS navigation, and CD/MP3/DVD player with XM. It also includes a RFID key fob to start the car, and a solar assisted climate control system that keeps the car comfortable using energy from solar panels in the roof while you're out doing whatever it is people who drive cars like this do. When it comes to the engine (the important part), you've got two options:
? All Electric – This Aptera is powered exclusively with batteries and will get you around town to the tune of approximately 120 miles depending on your driving conditions. At night you simply plug the Aptera into any standard 110 volt outlet and in just a few hours you will have a fully charged vehicle that will take you another 120 miles. The approximate cost of this option with all the features listed above will be $26,900.
? Plug-in Series Hybrid – This Aptera is also powered by an electric drive train but it is assisted by a fuel efficient gasoline powered generator which stretches your range significantly. In typical driving you may achieve over 300 miles per gallon and you will have range far beyond any passenger vehicle available today. The approximate cost of this option with all the features listed above will be $29,900.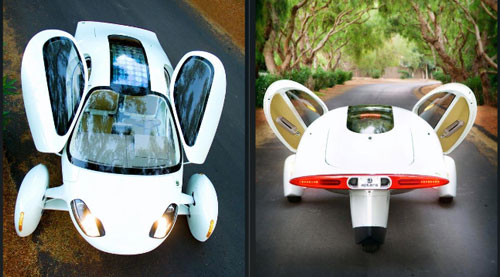 Be sure to click through to check out Aptera's eye-gougingly slick website, featuring old people in bathing suits and not much in the way of relevant information.