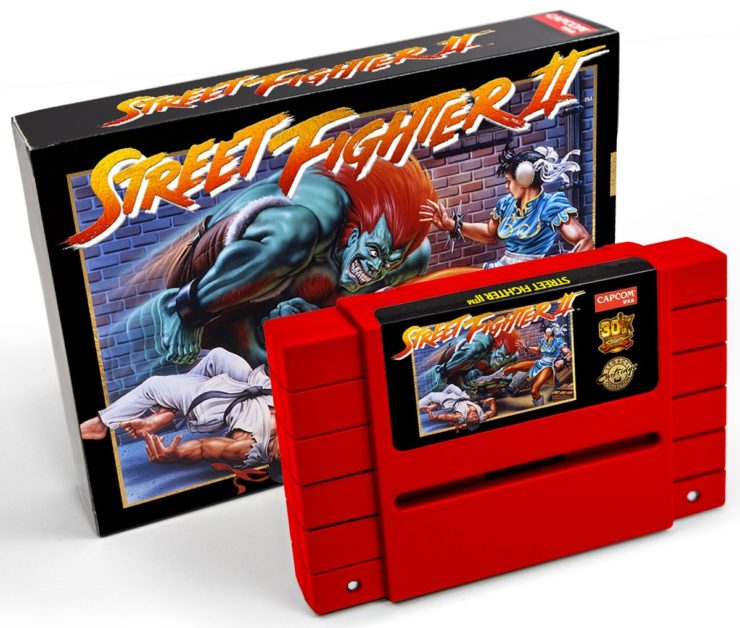 Capcom has teamed up with Iam8bit to release a limited run of Street Fighter II cartridges for the 30th anniversary for the game, which are fully functional. The run will produce 5,500 cartridges, with 1,000 being in 'Glow-in-the-dark Blanka' green and the other 4,500 in 'Opaque Ryu Headband' red.
Though something in the product page's description suggests the game could catch on fire, "WARNING: Use of this reproduction game cartridge (the "Product") on the SNES gaming hardware may cause the SNES console to overheat or catch fire."
Okay, so the game is unlikely to have any issues whatsoever, and is almost certainly not going to set of a Hadouken in your living room. Though, it's still best to exercise caution and you probably want to shelf this one anyway, as it's going to be massively collectible to any Street Fighter fan.
The cartridges will sell for $100 each and will ship sometime in November, but just buy an SNES Classic, which will be $20 cheaper and even has Street Fighter II built in. Just kidding, you'll never be able to find an SNES Classic that'll cost you less than $200 and little bit of your dignity off some guy on Craigslist who hoards them like a troll.
[ IAm8Bit ]