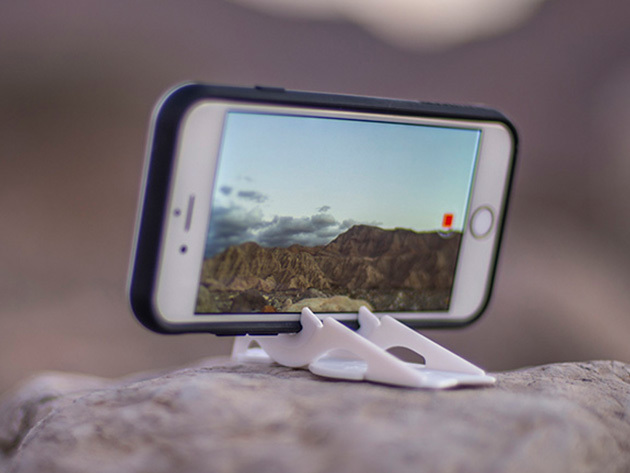 Stands for the iPhone are a dime a dozen. But it's not often we come across a credit card-sized stand that has adjustable angles. The Pocket Tripod PRO lets you prop your phone up and adjust its inclination on the fly. It's then super easy to unfold and slip back into your wallet.
The best tripod for your smartphone fits in your pocket. The Pocket Tripod PRO has been cleverly engineered to be the most practical smartphone stand ever. Portrait, landscape, upside-down – any type of photography works because the Pocket Tripod fits your smartphone in any orientation. Leave your tripod at home on your next trip, this one fits in your wallet, and has all the functionality you need.

"Great project. Never would have come about without a great deal of creativity and desire to do something different…it's perfect for me. You can count me in. I never had thought that something like that could be done." Steve Wozniak, Co-Founder of Apple
"Blew me away." Gizmodo

– Stores like a credit card directly in your wallet, purse, or pocket
– Rubberized connection to your phone is safe for glass screen protectors & delicate cases
– Transforms into an adjustable stand w/ a simple twist & flip
– Engineered w/ high-tech plastics to be robust & durable
– Carbon fiber legs offer optimum stabilization
– Combination of 4 90° sweeps of tilt adjustment allow you to hold the smartphone at any angle – take creative long-exposure images, breathtaking time-lapse videos, or enjoy hands-free FaceTime
Normally $25, it's $19.99 after today's rebate.