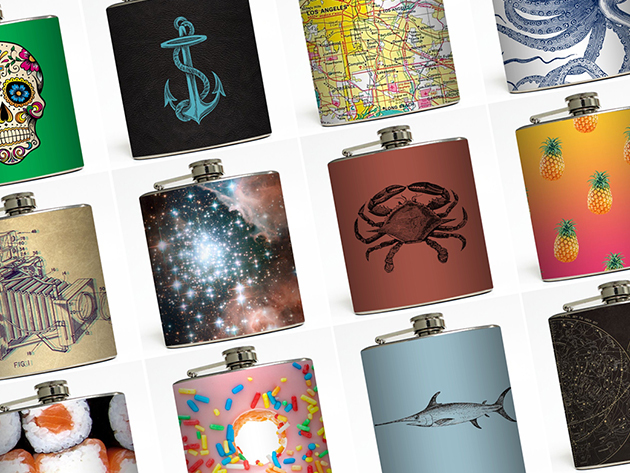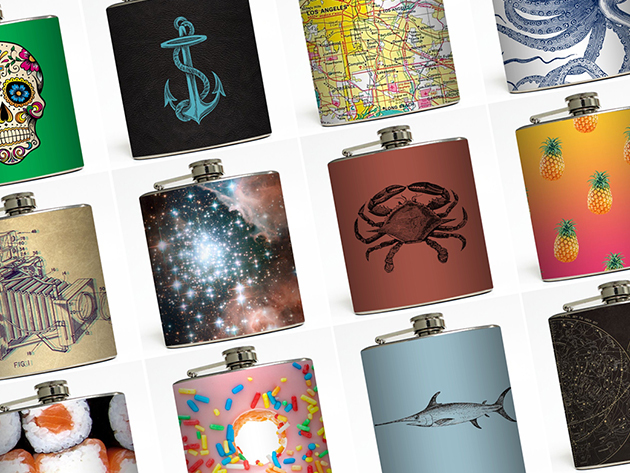 Carrying your favourite drink right next to your heart is the best way to confirm to yourself that no, you're not an alcoholic, no sir, you're just a drinking aficionado, an alcohol connoisseur, a fruit punch spiker, or any one of the many reasons one could have for carrying a flask. And if you're going to go to the trouble of carrying a flask, wouldn't you like to personalize it a little? The Liquid Courage Flask lets you choose from hundreds of designs.
No subject or theme goes untouched in this immense collection of hand designed, printed, and applied flasks. Find the perfect bachelor party gift, birthday present or the flask you've always been looking for but never believed existed, with this voucher for any flask on the site. Liquid Courage is brought to you by a husband-wife duo that delivers bespoke character and top vinyl-printed quality in every item they turn out.

– Made from shiny stainless steel
– Holds six ounces of your favorite liquor
– Fits perfectly in your pocket or purse
– Makes an awesome gifts for any occasion…or for yourself!
– Designed, printed & applied by hand in Tennessee
– Includes fully-wrapped designs/patterns that overlap in the back
– Printed on high-quality vinyl & permanently adhered
Normally you'd have to pay a very reasonable $26 for this, but with today's deal you'll be asked an almost ridiculous $16.99.