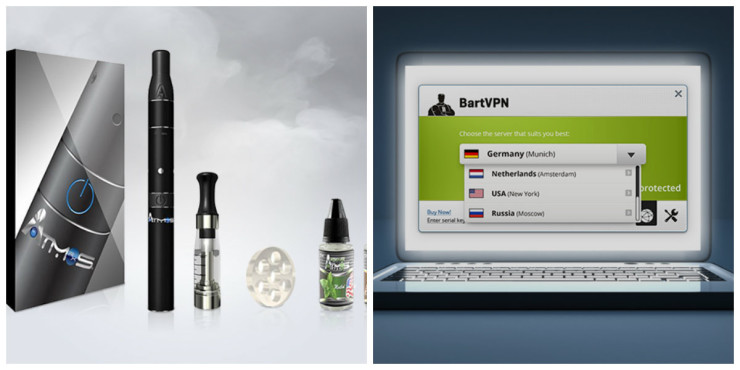 If we miss a day of deals, we usually skip to the next. But these deals are pretty intense, clocking in at 77% off for BartVPN: Lifetime Subscription, and 73% off on the AtmosRX Combo Vaporizer Bundle. Those are significant savings on pretty interesting products. So what are they?
Here's the skinny on the AtmosRX:
The discrete and stylish AtmosRx Dry Herb Vaporizer heats your preferred dry herbs or waxy oils in a wick-less ceramic heating chamber, for the freshest vapor with minimum aroma. With the included e-liquid adapter and two different e-liquid flavors, you can enjoy massive clouds and relaxing vapors even if dry herbs aren't your thing.

The AtmosRx Vaporizer is one of the best pen-style vaporizers on the market, thanks to its durability and long battery life, Vaporizer-Review.com

– E-liquid adapter with a measuring scale
– Vaporizer works with dry herbs, waxy oils and e-liquids
– Durable and built to last
– Ready to use straight out of the box
– A wick-less ceramic heating chamber for an optimal vaping experience
– Fast heat up time
– Over 72 hrs of continual vaping per single charge
– 2 flavors of e-liquid
Pretty sweet. BartVPN: Lifetime Subscription is also not too shabby.
BartVPN tunnels your online activity through secure servers worldwide, keeping it out of the hands of hackers, cyber thieves, and even your boss. This highly-rated VPN makes it simple to stay digitally safe by encrypting all your data automatically and offering an intuitive interface for customizing your settings. Make the smart decision, protect your Internet privacy with BartVPN for life with this one time offer.

"BartVPN.com also guarantees its users safety while surfing online and using online services." Yahoo! Finance

– Make all your actions & information invisible as you browse the web
– Keep your data secure while using Wi-Fi hotspots
– Prevent social media hacking & cyber crimes
– Get online banking protection
– Bypass location restrictions on accessing websites
– Gain access to VOIP services
– Use it on up to two devices simultaneously
This is a big article, but we're only letting it get this long because we're genuinely excited about these rebates. It's not easy to sound enthusiastic about 5% rebates, you know? Anyway, links are below.
[ Get the BartVPN: Lifetime Subscription ]