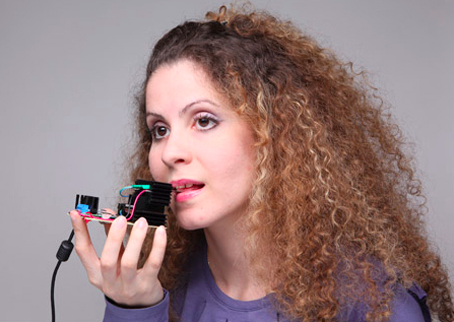 Eating is a wonderful thing, but getting fatter not so much. Well, the days of being able to ingest healthy things while our tastebuds tell us they're in fact deep friend bacon burgers might not be so far off. Nimesha Ranasinghe and his team at the National University of Singapore are in the process of developing a device that simulates flavours directly on a user's tongue.
By placing an electrode on the tip of the tongue and by carefully generating some current and temperature changes, the researches are able to simulate the basic tastes of sweet, salty, sour, and bitter. The contraption is still quite unwieldy and not ready for any type of commercial use, but they're working on making it smaller and less cumbersome. Also, they haven't managed to generate smell and texture yet, which unfortunately is a huge component of taste, but of course they're working on it. Considering we already have Smell-o-vision type devices, it's not unreasonable to imagine a future where every element of eating is digitally simulated, minus the calories of course. Ranasinghe and his team are actually working on a digital lollipop.
There's clearly no word on when or even if this could ever be turned into a commercially available product. But the fact that they've been able to simulate some tastes already sounds pretty promising.
[ Product Page ] VIA [ C|Net ]