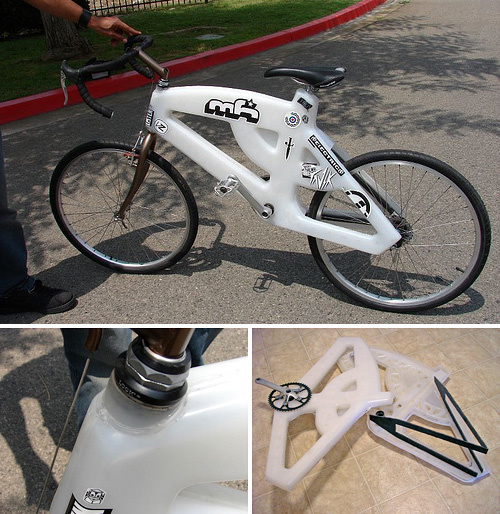 By Andrew Liszewski
We all know that riding a bike is an all-around better solution to driving a car when it comes to emissions (not to mention physical fitness) but the Innervision 1 takes things one step further. Created by industrial designer Matt Clark, the IV-1 bike's frame is made entirely of recycled plastic, but thanks to a specially designed "spaceframe-like" inner structure of triangles and molded beams, it's as strong and rigid as a regular aluminum bike frame.
The bicycle is aimed at improving and solving multiple issues involved in production. It is also designed to utilize automated processes and more cost efficient materials (plastics).

The bicycle consists entirely of reinforced and unreinforced recyclable polypropylene. The patent-pending bicycle features a two component frame: the plastic INNERFRAME and the plastic outer structure, both dual components.Ideally, the material would be sourced from recycled plastic sources (IE: old bottles etc) to reduce environmental impact and costs.

The INNERFRAME, which gives the bicycle it's rigidity, is most easily described as a spaceframe-like structure that features triangulation and molded "beams" to increase it's strength. Additionally, this prototype, utilizes reinforced polypropylene for the inner chainstays. One main objective was to make the frame fully recyclable and it, absolutely, is.
And while I'm sure that those who specifically ride a bike for environmental reasons will like the idea behind the Innervision 1, hopefully the fact that it's made from recycled materials will give it a price tag that will appeal to all bike riders.
[ Bike Commuters – Exclusive! Matt Clark Design Plastic Bike IV-1 Prototype ] VIA [ Wired Gadget Lab ]