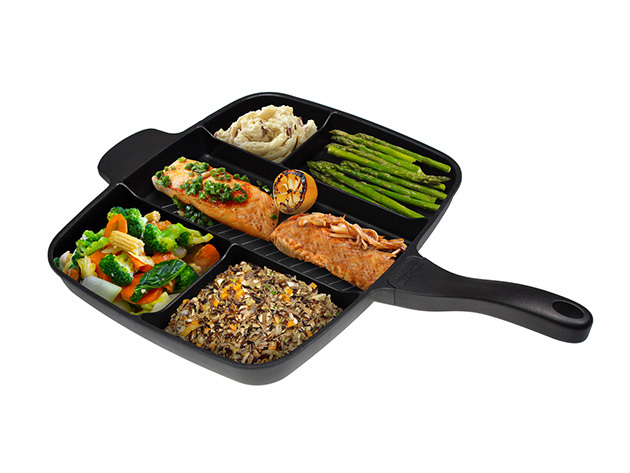 One of the biggest challenges for me, when I'm cooking, is to time things so that everything is ready and hot at the same time. This usually means having two or three pans on the stove at once, and juggling back and forth between them. With the MasterPan Multi-Sectional Meal Skillet, you get five separate cooking sections on the same pan.
Cooking an entire meal has never been easier, cleaner, and faster than with MasterPan. Divided into five sections, MasterPan is designed with a heavy gauge bottom to distribute heat flow evenly so you can cook several items at once, all on the same burner. No more juggling burners and cooking times; your whole meal is right there cooking in front of you.

– Cook multiple items evenly & at once on a single burner
– Remove food easily thanks to non-stick coating
– Wash by hand or in the dishwasher–you're still only cleaning 1 dish
– Consume your food more safely; no PFOA, heavy metals, lead, or cadmium added
It's not quite the kitchen revolution, but at $49, it's an inexpensive way to add a little productivity to your food prepping repertoire.