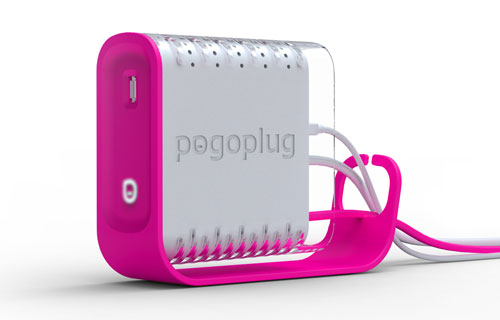 By Evan Ackerman
Cloud Engines has unveiled a new version of their Pogoplug hard drive mobile access networker sharing thingy. Um, let me take another stab at that: Pogoplug (which we first saw last year at CES) is a little tiny computer that talks to USB hard drives and makes their content accessible from anywhere, and easily sharable with anyone. It doesn't do anything that you couldn't do with all kinds of major networking headaches, but that's exactly why it's so useful: you just plug it in, it works, and you're done.
Version 2 of the Pogoplug features a redesign that incorporates a few more USB ports, making it easier to add multiple drives, although you can also use a USB hub to do the same thing. It comes on a weird pink sled, which personally I'm not a big fan of… I kinda liked the unapologetic functionality and smaller form factor of the original. There are also a host of new features on the software side, the most notable of which are automatic media syncing and global search, but you'll also find new tools for creating and sharing media slide shows and other social features like a sharing address book.
The Pogoplug 2 is currently on pre-order for $129 (looks like the original version is still an even $100), which includes a lifetime of web sharing service.
[ Pogoplug ]