When Apple announced the new MacBook, it left a lot of heads scratching. It wasn't the Retina MacBook Air most were hoping for, but it was super slim, Retina-equipped, and pretty attractive to die-hard fans of the brand. Among the few sticking points, like the underpowered processor, was a potential dealkiller: a single USB-C port, for everything. This meant having to use a variety of adaptors if you were hoping to do normal computing with it, like plugging the MacBook to your TV for example. Well, the HydraDock is an 11-port dock that gives your new MacBook a truckload of new functionality, in one device. Here's what's included:
1 — 3.5mm stereo headphone port
1 — Gigabit Ethernet port
1 — SDXC card slot
1 — Mini DisplayPort (up to 2,560 x 1,440 resolution, w/HDCP)
1 — HDMI (up to 1,920 x 1,080 resolution, w/HDCP)
4 — USB 3.0 ports
2 — USB-C ports (data only, no video)
You simply rest the back of your MacBook on this wedge-shaped dock and plug the single male USB-C cable in your laptop. Then you connect your MacBook's power adapter into the HydraDock and it'll power both the dock and the computer. It's a $129 pledge with expected deliver in June.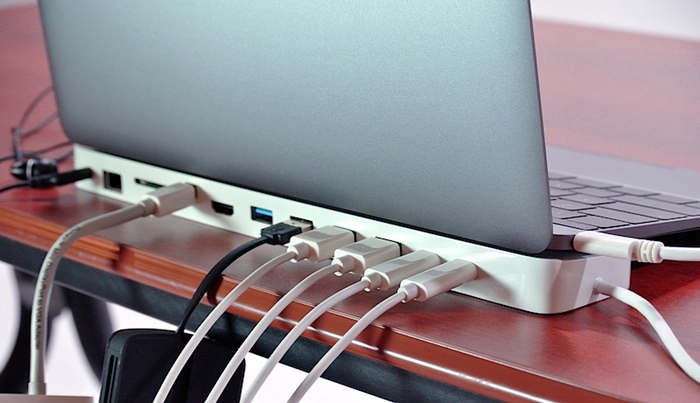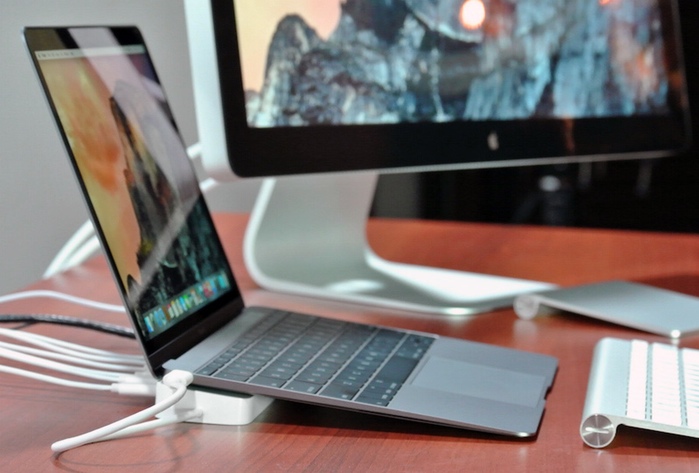 [ Project Page ] VIA [ TheAwesomer ]