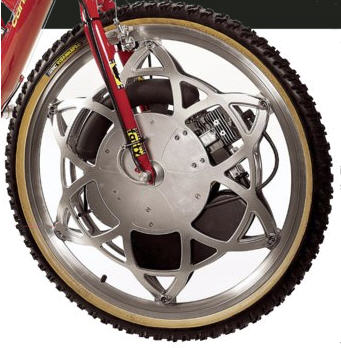 By David Ponce
The good folks at RevoPower claim they're re-inventing the wheel. And, let me tell you, I'm wanting to believe them. Here's the deal. You take your current bicycle (be it a mountain bike, a cruiser or a commuter bike), you remove the front wheel, and replace it with RevoPower's. A little wiring here and there, nothing too hard, and you're set. Then, you go out biking, as usual. But, say you're growing tired, or you hit a slope and you're just lazy… well, press a button, and the integrated commercial grade, 23cc two-stroke engine will kick in. You get 1.1 HP or 0.8 KW power output with a maximum rpm 7500 to help you along the way. On a flat surface, the engine will even take you up to speeds of 20mph, with a merciful 200mpg.
Sure, this is pretty much a moped, but the beauty really is that parts have been miniaturized to the point that they can fit within a standard 26 inch bicycle wheel. The entire engine is less than three inches thick! Evidently, the setup adds some weight: about 12 lbs more than a regular wheel, without taking the 3.8 liters of gas it can store into account. But that's still decent, especially if all you do is commute.
Its targeted price is $400, and will be out in late 2006, or early 2007. Now, if only these guys could re-invent their website, because it's sadly crapalicious…
[Revo Power] VIA [Uber Review]

Update: Looks like they're paying attention. The site now, while still Flashified, looks an awful lot better. Good job guys.