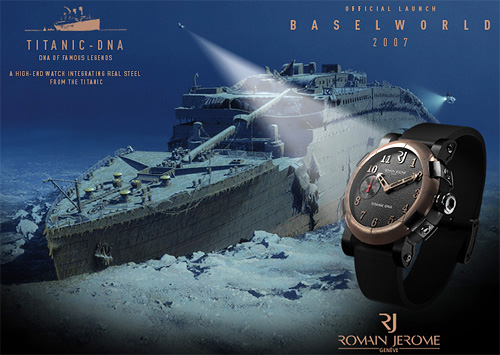 By Andrew Liszewski
If you really loved that Titanic movie (still haven't seen it BTW) or are just fascinated by the whole saga then you'd probably also be interested in owning a piece of the infamous luxury liner. Romain Jerome, a Swiss watchmaker has created a new timepiece called the Titanic DNA which uses parts of the actual ship in its construction. The watchface has a black dial thanks to a lacquer paint made with coal recovered from the wreck and the housing will be composed of precious metals like platinum in addition to steel procured from what's left of the ship.
The Titanic DNA will also be limited to a run of 2,012 pieces which is significant since the year 2012 marks the 100th anniversary of the sinking of the ship. I've always been less than enthusiastic about people essentially looting the remains of the Titanic for profit but sadly there seems to be plenty of others who don't share my concerns.
The Romain Jerome website doesn't list a price for the watch but given what it's made from I can guarantee it won't be cheap.
[ Romain Jerome Titanic DNA Watch ] VIA [ Wrist Dreams ]