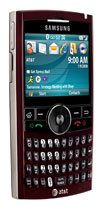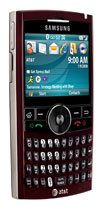 By Shane McGlaun
The original Samsung BlackJack was a big seller for AT&T and one of its most popular smartphones. Samsung and AT&T announced that a new updated BlackJack II would be available later this year. Microsoft CEO Steve Ballmer at CTIA Wireless I.T. & Entertainment 2007 in San Francisco showed the phone publically for the first time yesterday.
The BlackJack II looks a lot like the original BlackJack with a full QWERTY keyboard and a large 2.4-inch QVGA color display and it uses the Windows Mobile 6 OS. AT&T squeezed some interesting new features into the new BlackJack II including AT&T Video Share that allows users to share live video during a voice call from the BlackJack II's built-in 2MP camera.
Other interesting features include built-in GPS with support for location-based services, RSS reader client, significant improvements in standard battery life, and increased standard memory. The BlackJack II will also offer over-the-air synchronization of contacts, calendar, and task lists with Microsoft Exchange Server or AT&T Express Mail. The phone is expected to cost $149 with a 2-year contract.
VIA [ AT&T ]