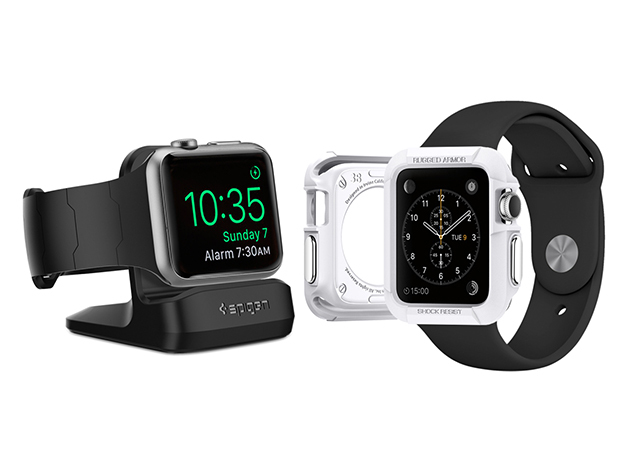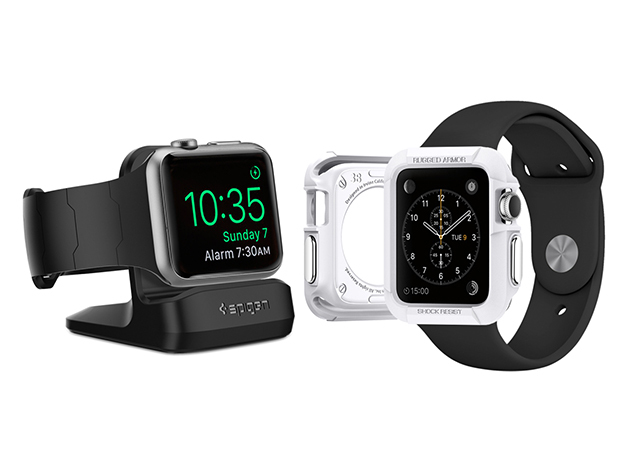 You went and spent all that money on an Apple Watch. Good for you? But hey, it's a lot of money and maybe you don't want to just toss your watch on your night table. The Spigen Rugged Armor Apple Watch Case & Night Stand gives it a nice spot to spend the night and get a charge in the process.
Your Apple Watch is the pinnacle of tech perfection, so give it the royal treatment with this premium stand and case combo. Protect your watch from the elements with the Rugged Armor case, and lay it on the Night Stand to rest and recharge. Whether you're on-the-go or in your home, you can be certain your watch is getting no less than everything it deserves.

– Stand design is simple & easy to use
– Bottom lip securely cradles watch to maximize stability
– Watch can rest w/ strap either open or closed
– Charger fits securely in cutout
– Nanotac pad at bottom keeps stand in place on flat surfaces
– Case features a flexible, sturdy & durable design
– Hardy TPU material protects against bumps & scratches
– Metalized button adds a classy & luxurious accent
It's a cool looking stand, and best of all, it's pretty cheap at $22. That's down from its regular $35 price, so you're facing a 37% rebate!
[ Get the Spigen Rugged Armor Apple Watch Case & Night Stand ]