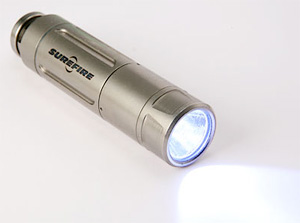 By Andrew Liszewski
I'm actually kind of surprised that this is the world's first dimmable LED flashlight but since I can't think of any other companies offering this feature, it must be. The Titan from SureFire can be adjusted from anywhere between 0 lumens up to 70 lumens by rotating the bezel. And even though it's only 3.5 inches long it's built like a tank and could probably eat MagLites for breakfast.
The body is made from tough, corrosion-resistant Titanium and the virtually indestructible LED is protected by a scratch-resistant sapphire window. It even has a tailcap connector threaded at 1/4-20 UNC allowing it to attach to most standard tripods for hands-free usage.
While the Titan might seem like the perfect tool for your upcoming weekend camping trip you might be disappointed to learn the limited run of 1000 Titanium units will set you back $500 each.
[ SureFire Titan ] VIA [ Popular Science ]