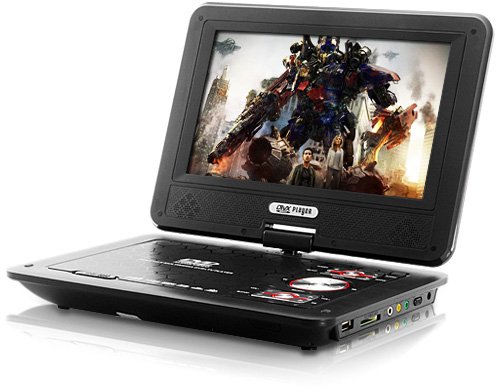 By Andrew Liszewski
Sure, we occasionally like to point an accusing finger at China for producing knock-off goods, like electronics and even entire stores. But sometimes producing a device that skirts certain copyright and patent laws results in something that's far more functional and useful than one that tows the legal line.
This hefty 9-inch portable DVD player might look like just a way to watch movies, but it actually houses a few surprises. First and foremost is that it can be used to rip MP3 files from an audio CD directly to a USB flash drive. And of course if you gave up on DVDs years ago, it can be used to play pretty much any kind of file format you can get your hands on off of a memory card or flash drive. Whether on its generously sized display, or on an external monitor thanks to its AV out connections.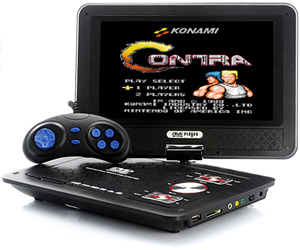 Less emphasized, but just as important to gamers who cut their teeth in the '80s, is its ability to play ROMs. I'm assuming that includes titles from older consoles like the NES and original SEGA Master System, and possibly even the SNES and Genesis given the shape of the included controller. The DVD player even appears to include a TV tuner allowing you to watch local broadcast content, though analog only so that aspect is useless if your country has already made the digital switchover.
What makes the whole package even more tempting is the fact that it's available for ~$75 from Chinavasion, so even if it barely limps along in terms of usability, it's still worthy of consideration as an entertaining travel companion.
[ Chinavasion – 9 Inch Widescreen Portable DVD Player with Copy Function ]