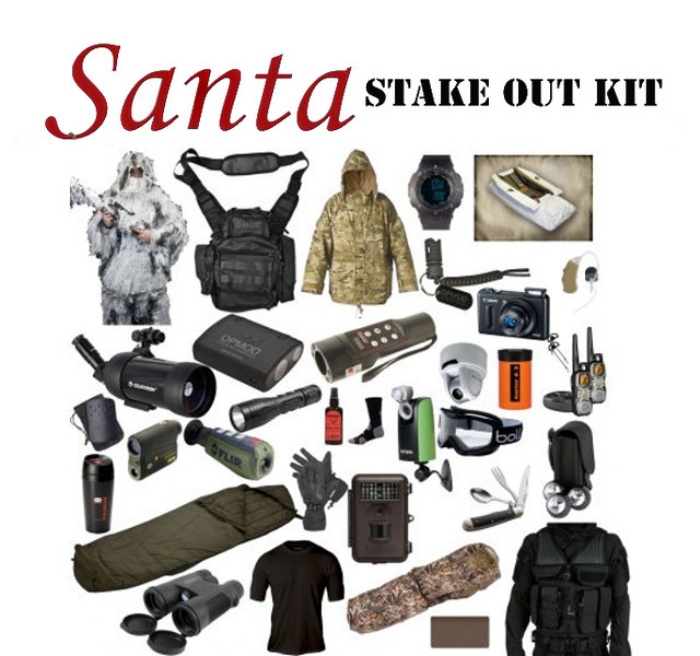 So you're a quarter of a century old, and you haven't met Santa Claus yet? Year after year, you get presents from family and friends from all over the world, and sometimes something special and unexpected from the big guy. Isn't time to thank him properly, face-to-face, man to man?
Providing everything you'll need to stake him out and more is this stake-out kit by PlanetOptics. It comes with a bevy of disguises, protective gear, and gadgets that protect you from the elements without compromising your mission.
The entire kit contains the following:
Camoflage Gear OPMOD Ghillie Suit Snow Camo Final Approach One Shot Blinds Final Approach Pull-Over Cover
Apparel
Propper Crew Neck Mens T-Shirt
BlackHawk Omega Elite Tactical Vest #1
Under Armour Coldgear Hitch Lite Cushion Boot Socks
BlackHawk ECW Pro Winter Operations Gloves
Tru-Spec H2O Waterproof ECWS Gen 2 Parka
Backpacks
OPMOD P.A.C. 3.0 Personal Articles Carrier Bag
Hydration & Food Storage
Neverlost Food Thermos
Primus C&H Commuter Mug Stainless Steel
Camping Gear
Eberlestock Ultralight Sleeping Bag w/ G-Loft Insulation
Boker USA Bon Appetite Knife
Hunting Gear
Cass Creek Harmon Synthetic Mule Deer Female in Heat Scent
Leupold RX-1000i Compact Range Finder with DNA
Bushnell 8MP Trophy Cam Night Vision Field Scan Trail Camera
AimSHOT Heatseeker Infrared Spotter with Laser
Accessories
Gen Pro Tactical Stocking with MOLLE
Bolle Mojo Snow Ski Goggles
Zippo Hand Warmer, Black
Surefire P2X Fury Flashlight – Dual Output Tactical Light
Pro Ears Pro Hear IV BTE Digital Hearing Device
5.11 Tactical Field Ops Watch
Brite Strike Technologies Tactical Balls White LED Rolling Devices
OPMOD TBO 1.0 Limited Edition Tactical Bottle Opener
Uniden Two-Way FRS/GMRS Walkie Talkies
OPMOD WB 1.0 Limited Edition 8x42mm Waterproof Binoculars
Night Vision, Thermals & Cameras
Carson OPMOD DNV 1.0 Limited Edition Mini Aura Digital Night Vision Pocket Monocular
Elmo Indoor Day/Night Network Dome Security Camera
Brinno TimeLapse Motion Sensor Digital Camera Bundle
Canon EOS Rebel T4i Digital SLR Camera Kit
FLIR Scout PS-24 Thermal Camera / Digital Thermal Imager
Celestron C90 Mak Spotting Scope w/ Tripod
You can get it all–if you've got $6,500 to burn, that is.
Otherwise, you can just drop the whole thing and stake out your dad instead when you head home for the holidays. We all know who the real Santa is at home, and that's more than enough.
[ Product Page ] VIA [ Geekologie ]