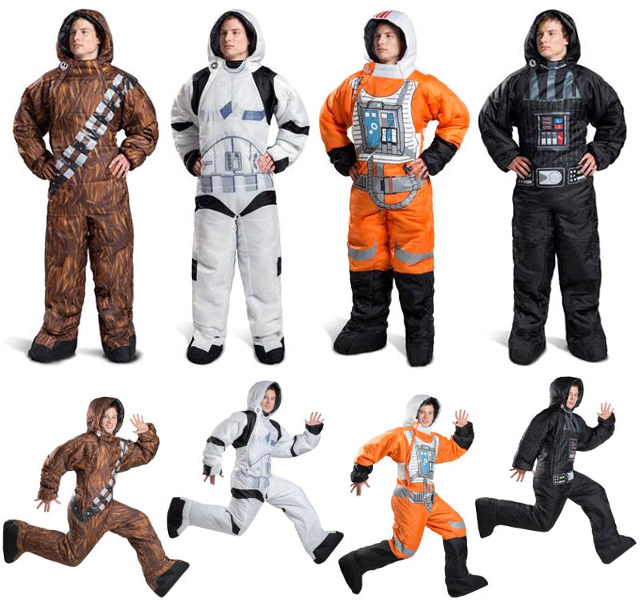 Selk'Bags, the sleeping bags that you wear like a bodysuit, have been around for a long time. We wrote about them in 2006 and even reviewed one in 2011. Fast forward to today, and we find the company trying to expand its appeal by releasing some Star Wars themed suits, and we're loving it. You can now get a Selk'bag in Chewbacca, Buzz Lightyear, Radiation Suit and Darth Vader flavours. Notice the two non-Star Wars items there? Neither did we, because who the heck cares, amirite?
Everything else is the same as a regular Selk'bag and has the following features:
– Removable booties allow you to wear your own shoes, or keep them on for warm sleeping; booties are reinforced with durable nylon
– Elastic no-hassle hand openings allow you to bring your hands in and out of the bag quickly and effortlessly
– Single Ezip for a quick entry and dual zipper pulls for easy pocket access
– A soft polyester shell with DWR (durable water resistant) finish is both comfortable and water-resistant
– An insulated hood for added warmth
– Draft tubes prevent heat loss around the zippers
– Wide zipper tape prevents snags when opening or closing
– A convenient carry sack for compact portability
They'll set you back $109 and also come in children's sizes for $89.
[ Product Page ] VIA [ Geekologie ]