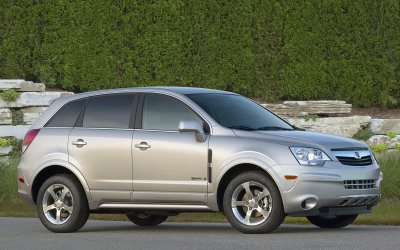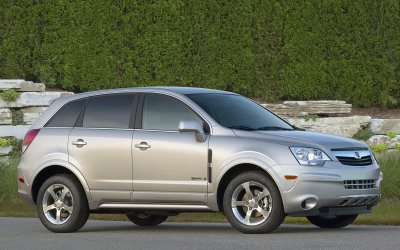 By David Ponce
For what it's worth, you gotta give it to GM for getting their feet wet in the green sector. They're doing a pretty good job too, what with the 2008 Saturn Vue Green Line SUV receiving a 25mpg rating in the city, and 32mpg on the highway. That's 585miles on a tank of gas and it the best highway mileage for any SUV. The kicker? An MSRP of less than $25k. We're telling you about this because we're impressed with the technology that's gone behind this effort:
The Vue Green Line's hybrid system combines sophisticated controls with a precise electric motor/generator mated to the 2.4-liter, 172-horsepower, four-cylinder engine and a modified automatic transmission. The system delivers fuel economy gains through advanced engine control algorithms including early fuel cut-off during deceleration, optimized transmission shift controls and by smoothly stopping the engine at idle. The system also features regenerative braking to capture electrical energy during braking, electric power assist during acceleration, low-rolling resistance tires and improved aerodynamics.
Roundtrip from LA to Vegas on one tank of gas in an SUV, for under $25k? Not too shabby.
[ Press Release ]