So you know a chef or someone who spends a whole lot of time in the kitchen, and you want to get them a chef's knife. Not just any knife, but a real chef's knife, one of the very best that will last for years and be at home even in even the fanciest restaurant. But you don't know much about knives – where will you begin? It's a good thing we've got a list of the top chef knives of 2017 for you to peek at!
Note about sizes: If you're giving a chef knife as a gift, you'll probably have to pick the size yourself, which can be tricky – 6-inch, 8-inch, and 10-inch blades are the common choices, but different chefs have different preferences. Longer blades are typically favored by the most experienced chefs for the biggest projects (they are at home in commercial settings). The best way to make a good buy is to sneak a close look at the chef knife they currently use, but that's not always possible. When in doubt, an 8-inch blade is a good middle ground, but particularly picky chefs will demand a certain length.
There's a related problem concerning weight. Certain people may have different preferences for weightier or lighter knives, which is another reason to take a look at what they're currently using. All right, onto the best picks!

This Japanese style blade (the price is for the 10-inch model) combines beauty, strength and excellence to become one of the best chef's knives on the market, particularly if you prefer Japanese edges and weight. The handle, made from Pakka wood, is particularly straight, suitable for chefs who prefer straight grips without any curves or divots.
The Classic is forged by KAI out of 32 layers of high carbon stainless steel. It's probably a quick lesson on forged blades: a forged knife is literally forged by layering rods of steel together until they form a single blade, which is then cooled and sharpened. Forged blades tend to be sharper and more resistant to wear, but also more expensive. Stamped blades, the other common alternative, are stamped out of metal sheets and then sharpened. It's a faster production process, and more affordable (usually), but the knives aren't necessarily as strong.

This powerful forged German blade is another masterful choice for your favorite chef (the price shown is for the 8-inch model). Note that the handle of this knife is triple-riveted and has a slight curve, which makes it more ideal for chefs with larger hands who like a bit more control of their knives for large projects. This knife is also by far the heaviest on our list, which can also help with control and leverage – although it's also a matter of taste!
A final note here on the edge. Japanese and German blades typically have very different edges. This has limited impact on cutting, but becomes very important when sharpening. If you are buying a knife as a gift, try to find out if the person you have in mind prefers Japanese or German knives first!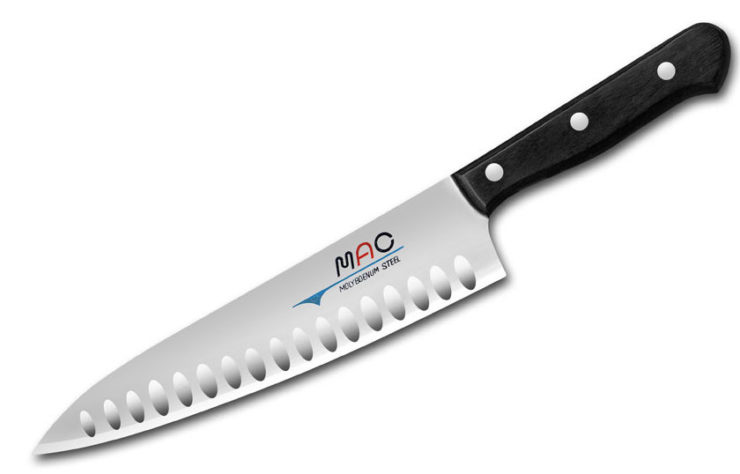 This high carbon, stamped blade (price shown for the 10-inch model) is a Japanese knife with a narrow Pakka wood handle. In many ways it resembles our top pick, except that it isn't forged and has a markedly lower price tag and longer, more curved "Western" style handle that some Chefs may prefer. It's also light – in fact, it's easily the lightest blade on our list, making it ideal for those who are used to lightweight blades, typically more experienced chefs who can handle swift blade without any trouble.