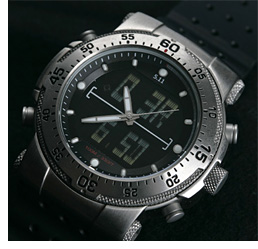 By Andrew Liszewski
I think at one time or another in their childhood most boys want to be a sniper when they grow up. As a kid it seems like it would be a cool job but as you mature and realize just how bad the Tom Berenger film really is you move onto other interests.
For those that stuck with the dream though this sniper watch from Telford Services might be of some interest to you. Now I'm not going to pretend to understand the specifics of effective sniping or what makes this watch useful so here's a blurb from their website.
Calculate point of impact by inputting critical variables that determine elevation and wind adjustments. Works on all MILDOT, TMOA, SMOA and clicking rifle scopes. Punch in data about the ammunition you are shooting and the conditions you are shooting in and the watch will display the appropriate hold over for a sure hit… It's that simple. This enhances a shooter's confidence to engage targets out to 1,000 meters with "whenever/wherever" portability. Data is easy to enter – even through gloves – with the most critical information arranged for fast change and access.
The 5.11 H.R.T Sniper Watch is available from Telford Services for ?199.99 in either 'Titanium Tactical' or 'Steel Dress' finishes.
[5.11 H.R.T Sniper Watch] VIA [MobileWhack]