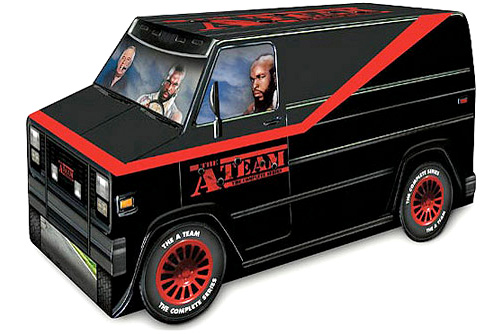 By Andrew Liszewski
Thanks to hundreds of cable specialty channels with thousands of hours to fill every week, I get to watch reruns of all the classic sitcoms and TV shows I grew up with back in the 80's. For the most part I'm left feeling that the first 18 years of my life could have been considerably better spent, except when it comes to a particular show about a crack commando unit that was sent to prison by a military court for a crime they didn't commit.
That's right, while MacGyver couldn't use a paperclip and an elastic to make his show withstand the test of time, I'll never tire of the A-Team, even the crappy final season where they ended up working for the man. I'm sure the crazy homebrew gadgets and vehicles they cooked up on a weekly basis were part of the appeal, but let's not forget that badass GMC van that's so much a part of the show that Universal created this over-the-top DVD packaging based on it. Goodbye shelf space, hello Hannibal, B.A., Face and Murdock.
The 25 disc set will be officially released on June 8, but you can pre-order it now from Amazon for $89.99.
[ A-Team: The Complete Series ] VIA [ Uncrate ]