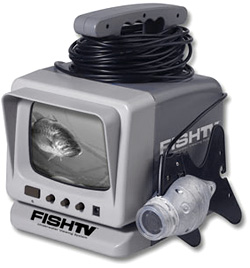 By Andrew Liszewski
Fish might seem like dumb creatures, but if you've ever gone fishing and spent hours without getting a single bite you can't help but wonder if they're actually down there laughing at you. But why should you limit your choice of tools to just a rod and a baited hook? As the superior species I don't see why we shouldn't use every technological advancement we've developed to our advantage. And that's where the Fish TV underwater camera comes into play.
It features an anti-spoof Fish Cam with 50 feet of heavy duty camera cable that allows you to see where the fish are actually hiding. And if it happens to be somewhere with poor lighting, the camera also includes a set of infra-red lights to boost the image brightness. While the black and white CRT monitor it comes with is pretty old-fashioned, it does keep the cost of the Fish TV under $100 (by a penny) but if you don't have access to a 12-volt power source you'll need to dig up 10 C-sized batteries to keep it running.
You can get it from Thorne Bros. Custom Rod & Tackle for $99.99.
[ Aqua Vu Fish TV ]