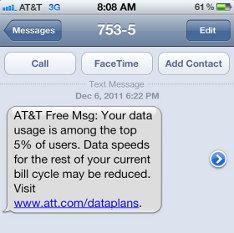 By David Ponce
It's funny that AT&T was just recently voted lowest in consumer satisfaction in a Consumer Reports survey. Well, when it rains it pours because things are probably going to get even peachier now. Word is coming in that if you happen to fall in the top 5% of iPhone data users on an unlimited plan, your download speeds will whittle to a trickle (allegedly 2G speeds) until the next billing cycle. To be clear, if you're on a non-unlimited plan, then you don't have to worry about a thing, you still have the privilege of paying for going over your cap.
So how will you know if you're using your phone too much? You'll just get an sms like the one pictured. There's no firm number to stay away from, just pray that you don't become part of the 5%.
Any of our readers gotten one of these yet?
VIA [ UberGizmo ]