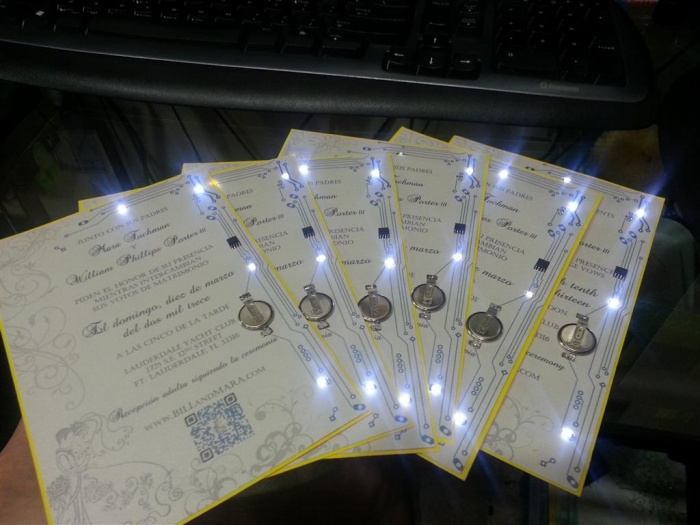 If you're in the process of planning a grand celebration for a grand event, then obviously invitations are at the top of your list. Because without invites, how can you get people to attend your event, much less let them know why you're celebrating and where you're going to be holding the festivities? It used to be that people simply went to a printing press to have their invitations printed. But in this day and age, people are getting more involved and more creative with their invites.
For example, ultimate geek couple Bill Porter and his wife (but then-fiance) Mara decided to do away with traditional embossed wedding invitations and bring out the circuit boards instead. They worked laboriously to print and assemble over 50 invites fitted with LED lights. The coolest part is that the lights flashed a secret message in Morse code when the sensors in the board detect decreased light levels. Pretty cool, huh?
For more awesome invites that were no doubt made for equally awesome parties, hit the break. You might get a few ideas for your own party in the process!
PercyVites
If mere card or paper doesn't do it for you anymore, then why not go for video invitations? They might be a huge hassle to produce, but not with PercyVites. They're a relatively new start-up in town that will help you prepare personalized video invitations for your kid's birthday party. As of the moment, there's only one character to choose from to use in the video, Callilou. He's a good-natured boy from PBS who'll be presenting the invitation to your guests. All you have to do to send the video invite is key in the email addresses of the people you want to invite, and presto, you're done.
PercyVites cost $0.99 each. More characters will be added alongside Callilou very soon, so if he's not what you're looking for, then you might want to wait a while.
Blow Me Up! Balloon Invitations
Make your guests work a little to get their invitation by making them blow up the attached balloon on the card to get the deets on the party. It'll require a lot of work on your end, too, what with preparing the balloons, having the cards printed up, and tacking each balloon onto the card. But I daresay all that work is worth it because it's a fun way to get your guests in the mood by giving them a taste of what to expect at your party. In this case, the DIY balloon invitation pictured above was for a birthday party, so it was obviously in-theme with the occasion.
Neighborhood Superheroes Invites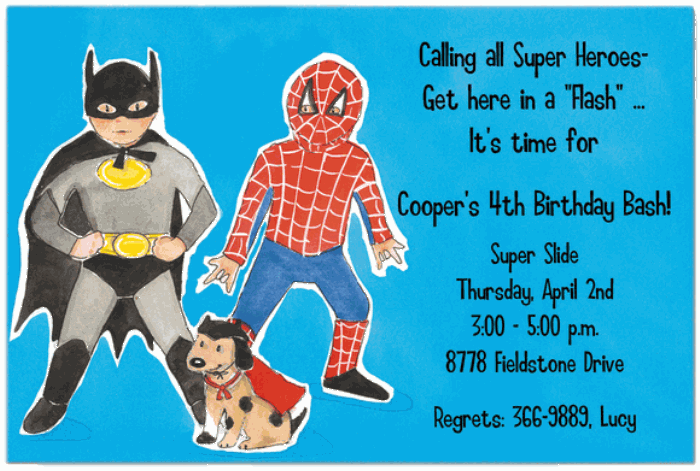 If you're running out of ideas for cool invites, then fall back to superheroes, because you can rarely go wrong with them. I mean, what kid doesn't love superheroes? Instead of conventionally-rendered illustrations, you get a dressed-down Batman and Spider-man printed on these simple but fun invites. It's got that sort-of homemade kind of look even though it's really not, which makes it perfect if you've got too many things to do for the party and have little time to spare for making the invitations yourself.
Superheroes are every little boy's favorites, so if you're celebrating the birthday of your little girl (or your little boy who, for some reason, doesn't like superheroes), then maybe other kids' invitations from the same maker of the above invites will do.
DIY Flip Book Invitations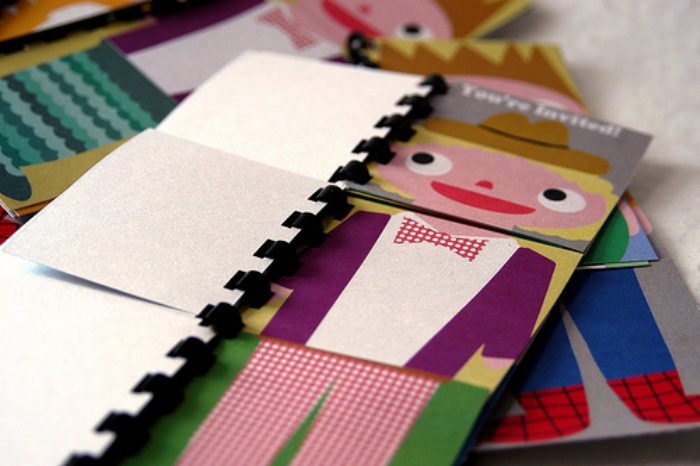 Flip books are fun to, well, flip but not that fun to make. As for flip book invitations? Not that's what I'd call creative. However, they will require a lot of work and effort, so you might only want to consider doing them if you're throwing a small party. You'll need stock cards, colored paper, lots of glue, and other related crafts materials to come up with these quirky and creative cards. The end result is amazing, and the invitations themselves can even serve as the souvenir since kids can play with it, flip it over, and have all sorts of fun with it.
Interactive Origami Invites 
Remember those fortune telling games you used to play when you were still a kid? The one where you folded up a piece of paper and wrote different options on each of its inner faces, so you can "predict" the future of the person you're trying to analyze? Taking that concept, designer Tomoko Sugiyama used that as the basis for the design of this really unusual invite. It's a bit more complex than the folded paper fortune tellers, since you'll have to find a way to put the relevant information on each face, but it's a really fun idea all the same.