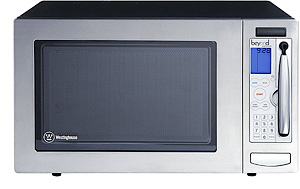 By Andrew Liszewski
I think a lot of us could easily survive with only a microwave oven for all of our cooking needs. But for those of us who would probably be considered 'stove-challenged' even the microwave can be a bit tricky. Guessing the exact cooking time for a perfectly prepared meal can still be hit and miss.
The Beyond Microwave claims to take the guesswork out of cooking times by including a UPC/barcode scanning wand. Just scan the UPC on the food's packaging and the Beyond Microwave will automatically program the exact cooking time and power-level based on its database of over 4000 UPC codes. And the microwave also has a learning function allowing it to accomodate new items not included in its database.
The Beyond Microwave is available from Smarthome for $149.99.
[Beyond Microwave @ Smarthome]
****


The amazing ways to use Barcode Software will never cease. Find out the myriad of ways a Barcode Printer or scanner could help your business.