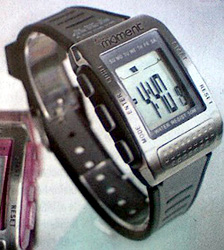 By Andrew Liszewski
If you're in denial about how fit you really are then just strap the Body Watch to your wrist for a dose of harsh reality. Using 'Bio-electrical Impedance Analysis' or BIA and 'Strain Gauge Precision Technology' the watch will provide an instant readout of your body's condition. This includes your level of body fat, body water as well as your Body Mass Index or BMI. Using this data it can even recommend a daily goal for water and calorie consumption to help you stay fit or get in shape.
As for other functions the Body Watch includes a sports timer, a standard alarm and can even track fitness data for 2 different users. It also seems to be only recommended for people aged 10-99. I guess once you turn 100 you're free to let loose and eat whatever you want.
The Body Watch is available from Hollywood Gadgets for $49.95.
[ Body Watch ]