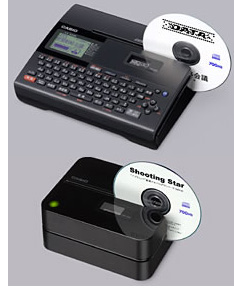 By Andrew Liszewski
My Epson printer does a great job at labelling inkjet-ready CDs and DVDs but getting it all setup and creating the label is a bit of a production so most of the time the Sharpie wins out. I suspect this is the same situation for a lot of other people who will probably find these new labellers from Casio kind of handy.
The Casio CW-E60 connects directly to a PC and can print to a disc with a maximum resolution of 200 dpi. The larger Casio CW-K80 is actually a standalone unit with a full keyboard and LCD that doesn't require a PC hookup. Details are a little sketchy right now since the only information I can find is on the Casio Japan website but I assume each unit will require printer-compatible blank media and the standalone version probably has limited graphics capabilities.
Both printers are due to be released in August at about $80 for the PC version and $120 for the standalone model.