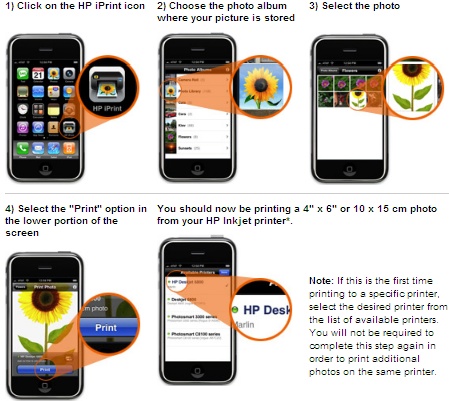 By David Ponce
We spent a good portion of Thursday morning listening to HP's execs talk about their new products with an enthusiasm of near onanistic intensity. Sure, their lineup of laptops, printers and desktops is slick and all, but we here are OhGizmo! tend to stay away from the "Bigger, Faster and Slimmer" school of technological innovation. That's why I was pleasantly surprised to hear HP had been working on an application for the iPhone which allows you to print any pictures you take directly from your phone, on any of HPs WiFi enabled printers connected to your network. We're not talking revolution here, but it is an added bit of functionality that's more than welcome on the iPhone.
It will print pictures up to 4″ by 6″, and is available right now from the App store. I saw a demo, and it works just as advertised.
One side note. I'm amused by the fact that HP refers to the "App Store" with quotation marks on their web page. I guess they're still "getting used" to this whole "iPhone thing".
[ iPrint Photo (direct download) ]
[ HP's Website ]