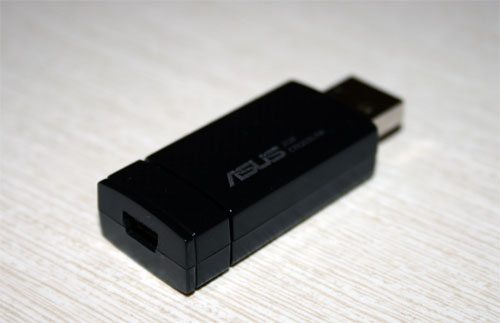 CES is very much about showing off the latest and greatest in technology. However, sometimes it gives us the chance for a hands-on look at things that might already be on the market. One such item is the ASUS Crosslink. I remember this coming out a few months back, but wrote it off as yet another terrible USB device that promised to make sharing files and internet access between two computers a breeze. I've used such things in the past and never walked away pleased. While visiting ASUS at the show, we were given one of these to check out. As it turns out, we had a need to share internet access between two of our laptops.
The Crosslink appears to be your average USB flash drive, but with a mini-USB port on the end. The drive does have 2GB worth of space (around 300MB is used by the software) that you can use just like any other flash drive. However that mini-USB port (along with the special software installed) allows you to share files, Outlook configurations, optical drives and your internet access. Skeptical, we proceeded to share a 3G connection between two computers running Windows XP.
As soon as the drive is plugged in, the software starts up, asking you what you'd like to do. Your options are simple, select what you want to share (files, Outlook configuration, Internet access/optical drive, etc.) and it will start the process. After selecting to share the internet connection, it prompted me to plug in the cable to both the Crosslink device and the other computer. The other PC installed some software, asked for a reboot and we started the process again. We did have to unplug the cable from the second PC and plug it back in, but other than that it went off without a hitch. The internet connection was shared with minimal effort on our part. This $40 USB device is definitely going to be an essential part of my travel bag.
[ ASUS ]