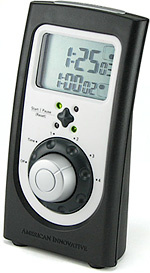 By Andrew Liszewski
For the cooking I do the timer on my microwave is pretty much all I need to know when my food is ready… Well that and the doorbell. But through unsubstantiated rumors and what I've seen on TV some people will actually use a stove for their cooking needs and unless it's one of those fancy new models odds are it doesn't have a built-in timer.
This is where the Chef's Quad Timer comes in and of course by 'quad' they mean to imply that this bad boy actually has four timers, one for each cooking element on your stove. (No love for the inside?) The timers can easily be set via a handy rotary dial from 1 minute up to 24 hours and each one is represented by its own LED light. A green light indicates the timer is still running while a flashing red light tells you time has run out. And once the timer has run out it will begin counting upwards indicating how long your food has been burning.
The Chef's Quad Timer is currently available from ThinkGeek for a very reasonable $19.99.