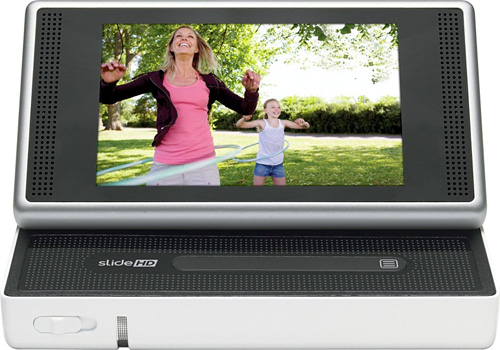 By Andrew Liszewski
Best Buy already ruined the surprise, so there doesn't seem to be much excitement behind Cisco's official announcement of their new Flip SlideHD camcorder. Like the Flip UltraHD I reviewed last year, the SlideHD captures footage at 1280×720 'HD', though the boost to 16GB of storage means you'll be able to record up to 4 hours before having to dump its contents off to your PC.
But the most obvious upgrade is of course the sliding 3-inch transflective touch screen which now incorporates all of the recording and playback buttons. When capturing video you use and hold the SlideHD like you would with the previous Flip models, but the addition of a headphone jack and the 3-inch display also makes it a more useful playback device, particularly when the display is angled up to 45 degrees and sitting on a flat surface. Sliding the screen also reveals a touch-sensitive strip which is supposed to make scrolling through all your videos a bit easier.
Gizmodo's already got a review up of the new addition to the Flip family, and feels the device doesn't really take advantage of the new touch-screen display as much as it could, particularly given the extra bulk that comes with it. Not to mention at $279.99 it's now the most expensive model in the Flip line.
[ Flip SlideHD ]