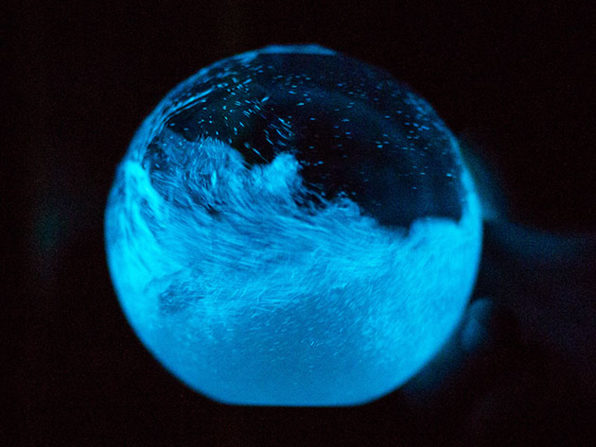 We live in a world that's increasingly detached from nature. Sure, we have some parks with some trees in them, but when do you actually get to see animals, creatures, life? Well, the Dino Sphere won't magically teleport you in the middle of the rainforest, but it's a cool device to own, if only to be reminded that our planet is filled with nearly endless biodiversity.
You've probably seen nature shows covering animals with bioluminescent properties, emitting radiant light just by, well, living. Dinoflagellates fall into that category, and the Dino Sphere is the auditorium through which you can bring this natural phenomenon into your home. These microscopic organisms grow and thrive simply through exposure to sunlight and nutrient-rich seawater (included). With a simple swirl of the sphere, the dinoflagellates put on a captivating light show that you can enjoy night after night.

"Forget sea monkeys, the Dino Sphere is the novelty bio-kit of the future," Gizmodo

– Hold one of nature's most spectacular occurrences in your hand
– Experience the glow of microscopic sea life called Dinoflagellates
– Power your sphere simply by sunlight, water, & simple nutrients – no batteries required
Normally $59.95, today's deal sees that price slashed down to $49.95.