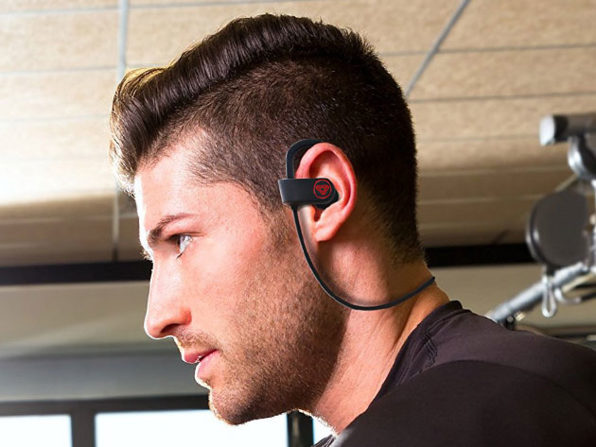 Waterproof Bluetooth earphones for $30? Yeah, that's pretty much what you're looking at with the ARMOR-X GO-X3 Bluetooth Headphones.
ARMOR-X really means the "go" in the GO-X3 Bluetooth headphones, having been expressly designed to fit your ears comfortably for long periods of time – be that commuting, hiking, running, or anything else. Delivering nuanced, superior sound via a Bluetooth 4.1 connection, and boasting an IPX4 waterproof rating, you'll be more than content with these as your new running buddy.

– Bluetooth 4.1 + EDR seamlessly syncs w/ wireless devices to deliver superb sound
– Full charge delivers up to seven hours of play time
– Voice prompt allows notifications of incoming calls & phone numbers so you never miss a call
– Silicone ear hooks secure the headphones behind your ears & rest comfortably for hours
– Premium soft smooth silicone gel surface helps sweat proof the earphones
– Advanced, in-ear design offers incredible sound quality w/ deep bass & crystal clear treble
So yeah, you don't have to spend the big bucks to untether yourself, and at $30, the price is more than right.