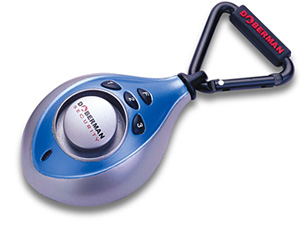 By Andrew Liszewski
If you find yourself stuck at an airport for a few hours you usually just want to find an empty seat and doze off to help pass the time. On the other hand you're probably also worried about the safety of your carry-on bag full of expensive gadgets you didn't want packed in your suitcase.
With one of these Doberman Alarms attached to your bag you can rest peacefully knowing that if someone even touches your gear a 100 decibel alarm will sound. After clipping it to your bag just use the keypad to enter your preset security code and the alarm's motion sensor will then be 'armed.' In an emergency the alarm can also be set off by simply pulling the unit's 'pin.'
The Doberman Bag Alarm should be available come mid-July 2006.