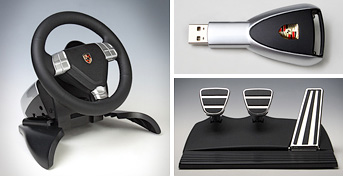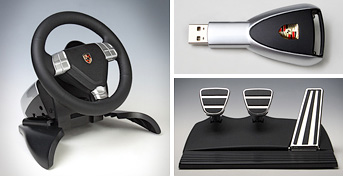 By Andrew Liszewski
If you use games like Project Gotham Racing, or Gran Turismo as a very, very cheap alternative to a $100,000+ sports car, I would suggest at least replacing that game pad with an actual steering wheel to improve the experience. And while the Porsche Wheel Turbo Nordschleife Edition from Fanatec might seem a bit expensive, sometimes you just have to spoil yourself.
Not only is it officially licensed by Porsche, but it also includes the company's logo on the center of the wheel, so any friends who stop by to play will know you only settle for the finer things in life. It currently supports the PS3 and PCs and both the wheel and the foot pedals are completely wireless. It even includes a 1GB USB flash drive that is designed to look like a Porsche car key.
It's currently available for pre-order on the Fanatec website for $350, and is expected to ship on December 13. And Fanatec, if you're selling a $350 steering wheel why not include include something larger than postage stamp sized images on your website. Just a suggestion.
[ Fanatec Porsche Wheel Turbo Nordschleife Edition ] VIA [ I4U News ]