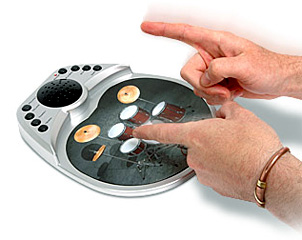 By Andrew Liszewski
If you've ever dreamt of becoming the next Buddy Rich, Ringo Starr or even Animal from the Muppets but that 9 to 5 office job doesn't leave a lot of free time for practicing the drums then this mousepad-sized electronic 'Finger Drums' kit will make sure to keep you on the road to super-rock-stardom. Its compact size allows you to work on that wicked drum solo anywhere you have a few free minutes.
The touch sensitive pad depicts a traditional drum kit complete with a snare, high hat, three tom toms, a bass drum and two cymbals. Just tap any one of them to hear the no-doubt 'amazing' drum samples through the unit's built-in speaker. You can even record that brilliant drum break just in case your co-workers weren't around to enjoy it the first time.
The Finger Drum kit is available from 'I Want One Of Those' for about $32.00.
[Finger Drums] VIA [Coolest-Gadgets]