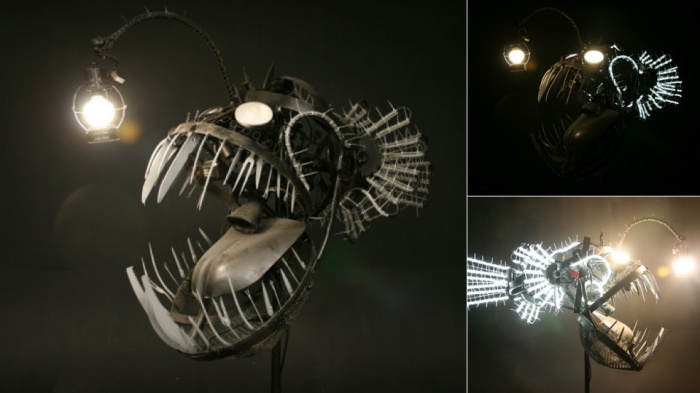 You've seen this fish before. Probably not live, but when it was featured pretty prominently in Finding Nemo. It looked scary in the movie and probably looks even scarier in actual. But the deep sea angler fish doesn't get any scarier than how it appears in its lamp form.
The fact that it stands at five feet tall doesn't help matters either. This lamp was created using an assortment of recycled materials, from forks and knives to old bike parts and shovels. And when you flick the switch, you'll be treated to the scariest sight of your life. I think it's probably demeaning to just call it a lamp, because it looks more like a piece of art, if you ask me. Its creator Justin La Doux seems to think so, too, because he actually entered the lamp (which was part of a grander installation) into the 2010 ArtPrize contest, where it was judged as one of the top 100 among the 1,700 or so entries.
Owning a piece of art isn't cheap, so you shouldn't expect this lamp to be, either, because it's priced at $8,000.
[ Product Page ] VIA [ Gizmodo ]