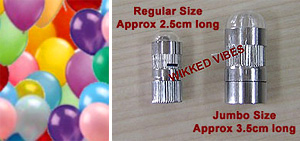 By Andrew Liszewski
If your friends usually leave your parties about 10 minutes after they've arrived then it's pretty obvious what your problem is… your balloons aren't flashing! Thankfully we live in the 21st century and this issue is easily resolved. These compact LED lights come in two sizes (2.5cm and 3.5cm) and can be placed inside any regular balloon instantly turning them into an inflatable party.
The smaller sized LEDs come in 5 different colors including red, blue, yellow, green and white while the larger sized ones include all those colors in a single device. The balloon lights are powered by 3 button cell batteries (included) which should keep them running for anywhere between 24 to 48 hours when left constantly on. They also include a flashing mode which will result in a longer battery life given they're not technically on all the time.
The LED lights are available from Wikked Vibes for about $2.85 for the 2.5cm version and about $3.84 for the 3.5cm version.
[ Flashing LED Balloon Lights ] VIA [ Shiny Shiny ]