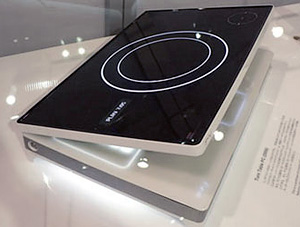 By Andrew Liszewski
If you're like me and have admired those with impressive DJ skills but would prefer not to shell out the money for a couple of Technics 1200's then Fujitsu has a concept laptop you'll probably like.
Shown at the Ceatec Technology Fair in Tokyo the 'Turn Table PC' as they apparently call it has a touch-sensitive LCD panel on the cover that allows you to play back and control MP3s either on the laptop or from a connected MP3 player. (hint: iPod) When you need to see the screen the keyboard inside the Turn Table PC is also touch-sensitive providing a similar interface to the one on the outside. And to make sure you really rock the house Fujitsu has made sure to include virtual 5.1 channel surround sound too.
At the moment the Turn Table PC is just a concept but Fujitsu claims it will actually be going into production within the next two years.