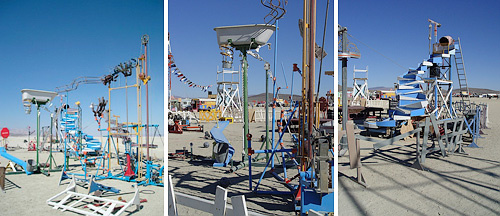 By Andrew Liszewski
As cool as this 1:1 scale model Ford was, it was really only designed for display purposes. However this full-sized version of the classic Mousetrap game is fully functional. In the spirit of Rube Goldberg the sculpture includes many of the elements seen in the boardgame including the iconic bathtub and wacky staircase. It even uses actual bowling balls for that extra bit of authenticity and risk of bodily harm.
But instead of dropping a cage on a cheese-stealing rodent the ultimate goal of this 'mouse trap' is to drop a 2-ton bank safe on any object of your choosing. 'Laughing Squid' has a Flickr gallery showing the contraption being used to crush a giant 1,200 pound pumpkin at Hallowe'en but you're really only limited by your imagination and what you're willing to clean up afterwards.
If you'd like to see the sculpture in person it will be on display at this year's Maker Faire being held May 19 & 20 at the San Mateo Fairgrounds.
VIA [ Make: Blog ]