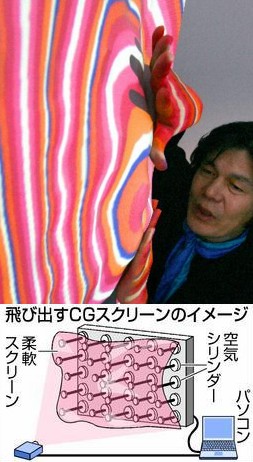 By David Ponce
At the moment, this technology is being displayed as art, rather than some R & D project, yet we see some promise for consumer applications here. Gemotion is simply a projector screen. But behind the screen, Yoichiro Kawaguchi (well-known computer graphics artist and University of Tokyo professor) installed 72 air cylinders, which move up and down through the orders of a PC to which they're connected, giving a 2D image a real 3D texture. The PC then synchronizes the projected image with the bulges.
?If used with games, TV or cinema, the screen could give images an element of power never seen before. It could lead to completely new forms of media,? says Kawaguchi.
We agree. In fact, we'd like to see the cylinders miniaturized and embedded behind flexible OLEDs. That way, you could solve at least some of the problems with the iPhone, for instance. In fact, there's no reason such technology couldn't be a couple of years away already (if it isn't already here, and we're just displaying our ignorance for all to see).
Gemotion will be on display from January 21 to February 4 as part of a media art exhibit (called Nihon no hyogen-ryoku) at National Art Center, Tokyo, which recently opened in Roppongi.
[ Asahi Article ] VIA [ Pink Tentacle ]