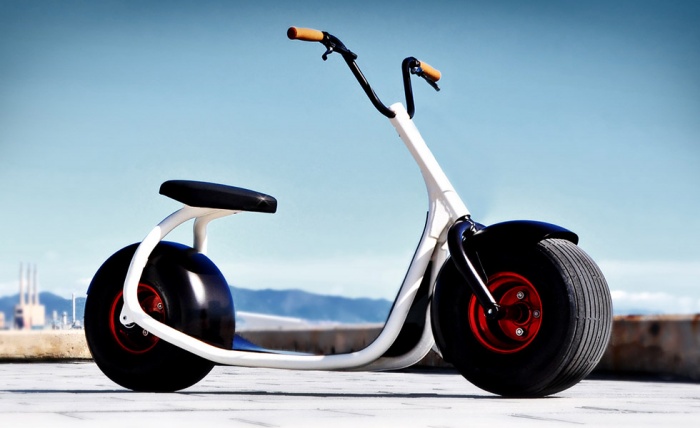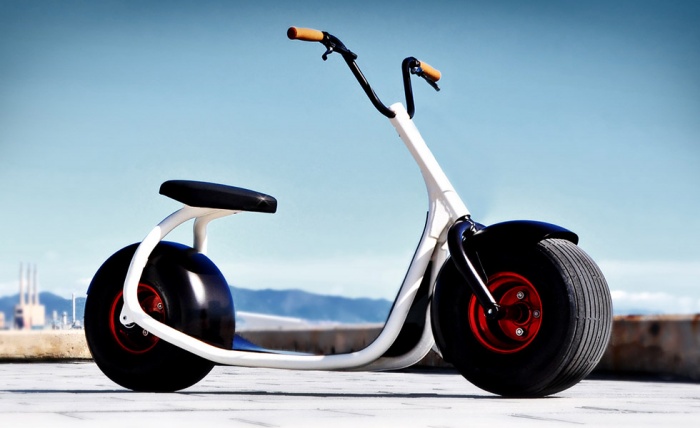 Vespas can be incredibly bulky, although they're relatively comfortable to ride on. Segways can cut your travel time down in half, but it can also make you look like a fool in the process if you've got poor balance. The solution? The Scrooser, a hybrid vehicle that looks like a cross benween a Vespa and a Segway.
The Scrooser is an electric scooter, but it's not the like the usual ones where all you have to do is sit and twist the throttle to go your merry way. Instead, you've got to give it a good kick-off by standing up and kicking at the ground to move it along. The direct-drive 1,000-watt electric motor helps you along by amplifying that initial burst of speed with four times as much power.
You'll have to give it a burst of speed of at least 2 mph (around 3 km/hr) every once in a while to keep it going. The Scrooser weighs just 61 pounds and is equipped with a hydraulic front disk brake, an internal rear motor brake, integrated front and back LED lights, a double kickstand, and an ignition lock. It's also got an integrated steel cable lock below the seat for added security.
The Scrooser is currently up for funding on Kickstarter, where a minimum pledge of $4,790 will get you one of your very own.
[ Scrooser Project Page ] VIA [ Gear Hungry ]