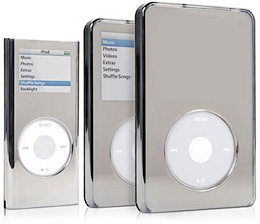 By Andrew Liszewski
Normally iPod cases are a pretty boring topic since there's about 800,000 different varieties on the market but once in a while one manages to catch my eye. This time it's the Reflect from Griffin. The case is a standard polycarbonate shell which is lightweight and durable and all that but what sets it apart is the mirrored-chrome finish that actually manages to hide the screen when the backlight is off.
It provides for a nice effect and an even nicer finish when all you can see is the iPod's touch wheel while it's turned off. In addition the back of the Reflect has a matte black rubberized finish that not only serves as a nice contrast to the chrome on the front but also provides a bit of extra grip. Now if it wasn't for the fact that I always leave the backlight off on my Nano I might have found myself a new case.
The Griffin Reflect is available on their website in an iPod Video or iPod Nano version for $24.99 each.
[ Griffin Reflect ] VIA [ Geekologie ]