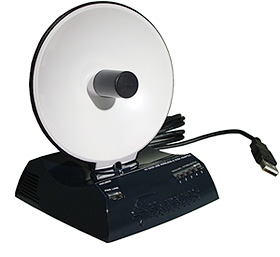 By Andrew Liszewski
Wireless internet is one of those things that can be a great convenience but at the same time a massive headache. Sure it's nice to be untethered from that network cable but if your wireless signal is barely in range of your laptop and is causing you to lose your connection every few minutes it can really make you miss that reliable wired connection.
As a possible solution you might want to try the Hawking Technology Hi-Gain USB Wireless-G Dish Adapter (HWU8DD) which claims to extend wireless connection distances up to 300%. Just plug the dish into your system via USB and then use the built-in LED signal-strength indicators on the dish to pinpoint the strongest wifi signal available in your area. The design of the dish is not that portable limiting the places you can use it which is unfortunate because something like this would be great in an airport or other public wifi location. Hopefully a more portable version is secretly in the works.
The HWU8DD Wireless-G Dish Adapter is currently available from the Hawking Technology online store for $74.99.
[Hawking Technology Hi-Gain Wireless-G Adapter] VIA [The Red Ferret Journal]