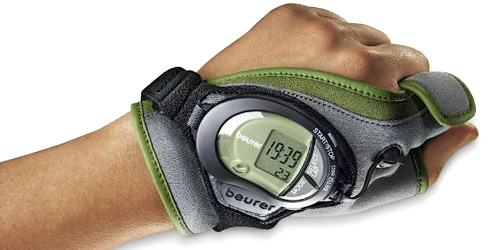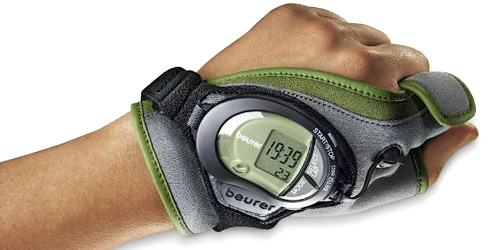 By Andrew Liszewski
Next week the first Wearable Technologies Congress will be held in Munich Germany and some of the innovative technologies that will be exhibited have already been made public. From German company Beurer GmbH comes this beltless heart rate monitor that's based on a technique called Plethysmography. I've never heard of it either but apparently it uses a sensor to measure light that is reflected by the bloodstream in the finger artery. Not only can this be used to measure your pulse but it can also be used to keep track of your blood pressure.
The LCD screen provides constantly updated information on your physical condition while the glove design is made to feel like a second skin rather than a large bulky watch. That makes it ideal for athletes who won't have to worry about it falling off or bouncing around during physical activities.
There's no word on when the glove might see production but if you're interested in the whole 'wearable technologies' scene you might want to check out their website here.
Update: Thanks to ManToy who pointed out in the comments that the glove is officially called the 'Beurer PM 100 Pulsuhr' and is actually available from Amazon.de for about $226.
[ I4U News – Preview of Wearable Technologies at ispo SPORT & STYLE 2007 ] VIA [ Gear Live ]