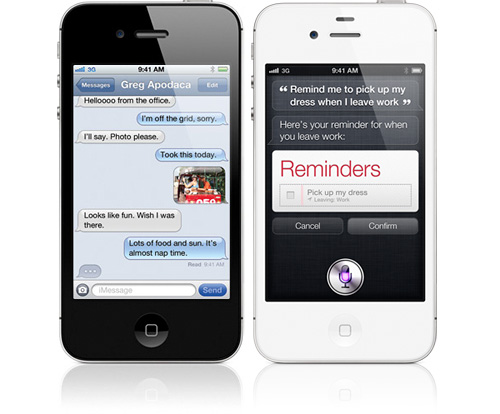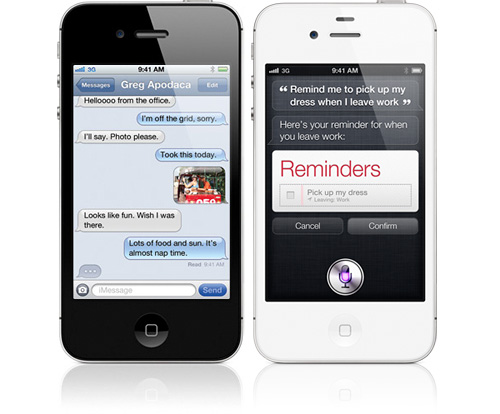 By Andrew Liszewski
As much as we'd like to hope they'll be, every single Apple PR event can't be a game changer. And today the world breathed a somewhat disappointed sigh when Apple's public faces unveiled a marginal update to the current iPhone 4. The mythical iPhone 5 that's been spotted roaming the woods in Washington, and hanging with Salman Rushdie in dark corners of pubs, was no where to be seen. What took its place was the also speculated iPhone 4S, which like the iPhone 3GS, has a host of marginal updates that will probably have most iPhone 4 users upgrading anyways.
On the inside it's packing a dual-core A5 chip which Apple claims is twice as powerful as the iPhone 4's brains. With seven times the graphical prowess, while still being power-efficient for a slightly longer battery life. The notorious iPhone 4 antenna problem has supposedly also been resolved, adopting the case design of the Verizon model. But the 4S is now also a world phone with both GSM and CDMA hardware inside, making them easier to sell from a trunk the world over.
The camera on the iPhone 4S has also received a notable bump, with an 8MP sensor and an f/2.4 aperture making it better suited to shooting in low light conditions. On the video side the iPhone 4S now records in 1080P as well. Combined with the imminent release of iOS 5 next week, and cool new tricks like being able to launch the camera from the lock screen, the iPhone 4S is probably going to continue to be tough competition to dedicated point and shoots.
Last, but certainly not least, is a new feature that's going to be exclusive to the iPhone 4S, all but ensuring we're all going to upgrade. Siri is billed as an "intelligent assistant" that's able to perform a host of iOS related tasks by simply asking her too. Want to know the weather? You can actually ask several different ways, instead of having to regurgitate a small selection of specific phrases. And Siri seems far more capable than the iPhone's current voice command functionality, allowing you to make calls, set appointments, even text people, just by asking. So hopefully I can finally get my personal assistant off the payroll. (He was actually just an old Thundercats action figure that should have no trouble finding other work. So don't worry.)
The iPhone 4S will be available starting October 14 in 16, 32 and 64GB capacities for $199, $299 and $399 respectively. (After signing your life away to your local provider.)

[ iPhone 4S ]