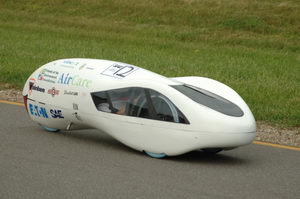 By David Ponce
Yeah, so maybe it doesn't do 0-60 under 5 seconds, nor does it have 340 ft/lbs of torque. Maybe it doesn't spit fire when you floor it, but hell, my man, it can go from Halifax to Vancouver (that's from coast to lovely Canadian coast, in case you don't know) on one gallon of gas. That works out to just about 3,145 miles per US gallon (0.074 litres/100 km).
The vehicle is the first prize winner at the yearly Society of Automotive Engineers (SAE) Supermileage Competition that took place June 9 in Marshall, Michigan. It was developed by students at UBC, now winners for the sixth year in a row. The idea is to build the most fuel efficient vehicle possible. The competition rules stipulate that it must be powered by only an internal combustion engine, with no assistance from electric motors or human propulsion.
Last year, UBC won with an entry that clocked in at 1,600 mpg. It's funny to think we get excited these days at cars that can manage 35mpg.