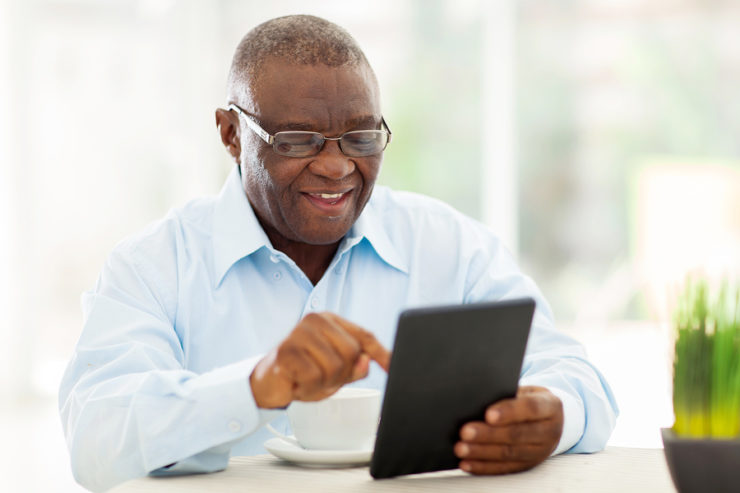 Many seniors experience a deep sense of social isolation (this guy up here doesn't mind though). This is due to a number of factors: they are no longer part of a workforce, family and friends have moved away, and it may be more difficult to leave the house to do the things they used to. In addition to sociological factors, seniors struggling with cognitive challenges or mobility issues find it difficult to connect with others, simply because it's difficult to join a senior center or religious community and participate in activities.
Loneliness is a sense of grief due to lack of social connection. It creates psychological issues like depression and anxiety, as well as sedentary behaviors that increase health risks. If these are not addressed, a decline in cognitive abilities also occurs. While the ideal solution to heal loneliness would be to help seniors join a community where they feel a sense of connection, technology can help mitigate many of the risks of loneliness and the anguish of social isolation.
As seniors become more comfortable with the use of computers and Internet-connected devices and increasingly familiar with social media, they can engage in online communities and reconnect with family and friends.
Smartphones
Many seniors find smartphones bewildering. Moreover, they are continually evolving. Manufacturers make advances and add innovative features with every new model. For instance, earlier Android models of the Samsung Galaxy series did not have the need for much security because the technology was so new that hackers hadn't figured out a way to exploit them. Since then, criminal-minded geeks have upped their game, but the latest Android devices have developed such sophisticated user authentication features that it is almost impossible for anyone else to use the phone.
A Senior-Friendly Phone
An ideal solution for technophobic seniors who are often intimidated by the vast array of icons available on smartphones is a mobile phone called the Jitterbug phone. This type of phone is designed to provide seniors with an easy and affordable way to stay connected to those around them.
Even s.eniors unfamiliar with cell phones will find this type of phone easy to use, because it has an intuitive interface. The bottom half of the screen is the command area, and it asks the user what they would like to do. If, for instance, someone is in the phone list and a contact is highlighted, he or she will see the question, "Call?" A "yes" or "no" key option is available to help them whether to make a call. Other features include a built-in tutorial and a keypad with back-lit buttons.
The phone also has features for the visually impaired or the hard of hearing. Vision is enhanced with a sharp color screen, menus, messages, and "yes" or "no" question prompts. Moreover, big numbers on back-lit keys makes it easy to see if lighting conditions in the room are poor. Hearing difficulties can be accommodated with a volume adjustment that ranges from low to very high, and the settings can be adjusted during a call. In addition, there is also a speakerphone option and a hearing aid compatibility feature.
Since seniors are often on tight budgets, the data plan is designed to be highly affordable, and it can even be as low as $15 a month. Although many affordable service plans make up for their low monthly fee with a continuity program based on signing up for a long-term contract, this type of phone has no extended contracts, and the user is completely free to cancel anytime they desire without any financial penalties.
Desktop and Laptops
Although common computing devices like desktops and laptops are initially intimidating for people who have spent most of their lives in a pre-digital age, modern computers are designed to be user-friendly. For this reason, many advocacy groups, senior centers, and retirement communities offer free courses for seniors to help them realize that their tech fears are unfounded. Once introduced to the amazing world of computers, they are amazed that they ever found it difficult to do simple things like surf the web, type a letter in Microsoft Word, or play a game of Candy Crush.
America's Aging Population
The use of technology in relieving lonesomeness plays a much larger role in improving the lives of elderly people than many people realize. As the US population ages, many Baby Boomers, those born between 1946 and 1955, find themselves living alone. According to 2014 census numbers (the latest figures available), the older American population number over 46.2 million. Those 65 or older represent 14.5% of the population, which works out to be about 1 in every 7 Americans.